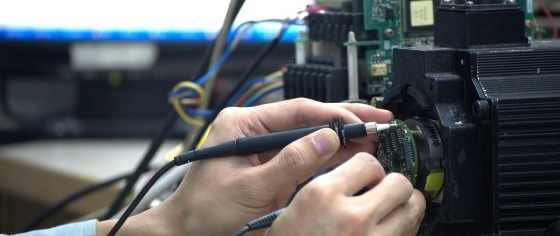 Servo Motors Repair
---Reconditioning and alignment of your servo motors
==> Click here to see our repair procedures.
Servo motors are dynamic and complex motors that place special requirements on overhaul and repair. The correct alignment of the position detection systems such as tacho position encoders, resolvers and SINCOS encoders is a basic prerequisite for exact commutation and correct operation of the servo motors.
With our many years of experience and specially equipped workshops, ACT is your partner for the reconditioning of DC servo motors, AC servo motors and disc motors - irrespective of the manufacturer.
With flat-rate prices for defined service packages, we offer you quick and efficient processing - from the enquiry to delivery and installation and commissioning. Extensive function and load tests prior to delivery document the quality of the repair.
Experienced specialists for high quality reconditioning and recommissioning of your servo motors added value through competence.
The routine inspection of all wearing parts significantly reduces the probability of a renewed failure of your servo motor. In the case of repetitive faults we advise you on the cause of the fault and provide suggestions to rectify the situation. In close consultation with you, we adapt your servo motors to increase their reliability and availability.
If needed, we can provide an express repair with delivery often on the same day as the order.
==>List of servomotor manufacturers that are frequently serviced at ACT's facility…
















Our Professional Service
Proper care and maintenance of high quality servo motor requires the following key factors.
Trained technical staff - Shanghai ACT technical staff have extensive experience, and get regular training.
Dedicated servo motor test equipment - a comprehensive diagnosis and effective detection of motor and feedback device, including servo motor analysis software and a variety of encoders test interface, is considered the world's most advanced servo motor test equipment.
A lot of spare parts resources - all metal parts are all clean, sand blasting, painting, completely refurbished.
Your interests to ensure
One-stop service model for your efficiency and cost savings.
Efficient, fast, clear service processes, approachable service price.
Our extensive use of original manufacturer spare parts to ensure consistent high quality.
Provide high-quality service and rigorous testing to ensure restoration of the servo motor to the factory performance.
Standard delivery time is short. Another optional emergency repairs, reducing downtime.
365 days on standby, if necessary, to the scene to quickly identify the cause of the malfunction, recommend corrective solutions.
For repair parts, we offer self-service date of one year limited warranty.